Hori Pokeball Plus Charging Stand
Just place the charging stand for Monster Ball Plus
Nintendo Switch software "Pokemon Let's Go! Pikachu", "Pokemon Let's Go! Eevee"
is "Monster Ball Plus" dedicated charging stand of simultaneous it will be released with.
Charging is possible just by placing
By attaching the included charging attachment, you can easily charge by simply placing "Monster Ball Plus" on the charging stand.
After charging is complete, you can remove it by simply lifting it.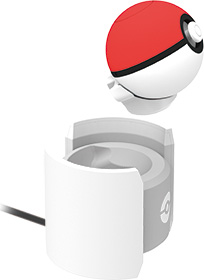 Discerning design and comfort
A cool design inspired by the world of Pokemon.
We are particular about the feeling of use, and it has a design that balances appearance and usability.